Introducing Revive Scotland
We are pleased to announce that Homefinder UK, in partnership with Wheatley Group, launched 'Revive Scotland'. Revive Scotland is a new project to support women experiencing homelessness, or threatened with homelessness, as a result of domestic abuse within Scotland. Funding for the project was administered by SFHA on behalf of the Scottish Government. Revive Scotland is an expansion of Homefinder UK's move-on service for domestic abuse survivors, Revive.
Are you a domestic abuse survivor in Scotland?
Complete this form to find out if you are eligible to use Revive Scotland service to relocate to an area of your choice.
Project objectives
The Revive Scotland project aims to take a holistic approach to supporting women experiencing domestic abuse, assisting them to source and access suitable housing, whilst also providing tailored wraparound support . This is to ensure successful relocation and tenancy sustainment for victims and their children. We intend to build strong working links within the Scottish housing sector, making the best use of any vacant housing stock while supporting women domestic abuse victims looking to relocate. The Revive Scotland project will add another dimension to the housing support options available for victims of domestic abuse, to further strengthen the National response.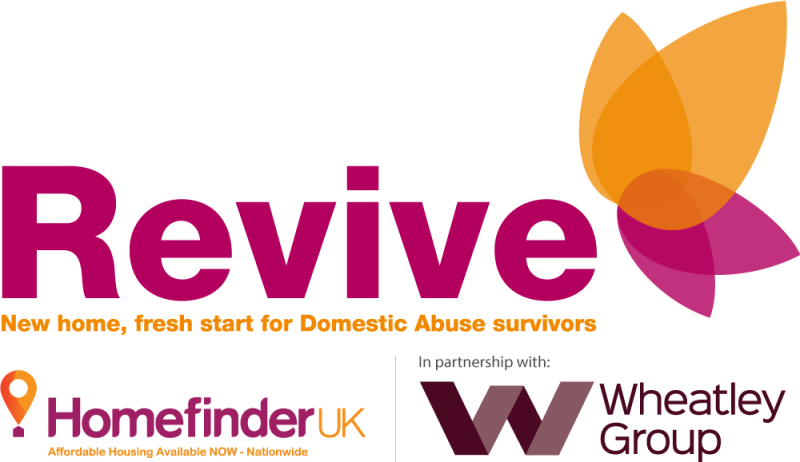 About Wheatley Group
Wheatley is Scotland's leading housing, care and property-management group and one of the UK's best-accredited organisations. Owning or managing over 93,700 homes, Wheatley delivers award-winning services to over 210,000 people across 19 local authorities in Scotland. Wheatley is 'Making Homes and Lives Better' for the people they work for and the communities in which they live.
Wheatley is committed to supporting customers impacted by Domestic Abuse, demonstrated by our support of the Chartered Institute of Housing (CIH) Make a Stand campaign. In partnership with Safe Lives, the national Domestic Abuse charity, Wheatley has delivered training to frontline staff, informing and educating them to recognise and respond to Domestic Abuse.
Wheatley has also developed strategic partnerships with key agencies offering support to victims and survivors of Domestic Abuse to expand referral routes and signposting opportunities.
What will Revive Scotland do?
As a National service, Revive Scotland will create a mechanism for women experiencing domestic abuse to access affordable and secure social housing out with their local authority area.
A highly trained and dedicated team will:
Support applicants through the process and assess their housing needs accordingly;
Identify and secure permanent social housing for women domestic abuse victims/survivors and their families;
Work with the women to provide tailored wraparound support options driven by their views and aspirations;
Signpost to other agencies, organisations and services required, to ensure any further support is received;
Liaise with local authorities and housing providers throughout the process to ensure a smooth transition to a new home and area;
Offer follow up support and obtain customer satisfaction feedback on the service provision to inform future service delivery.