ho

pe - the Homelessness Reduction Act software

hope is an IT solution built by Homefinder UK's parent company, Home Connections. hope has been developed to help local authorities meet the Homelessness Reduction Act and H-CLIC reporting requirements.
Designed with user in mind, hope simplifies and reduces workload of housing officers. The system guides officers through the homeless application process from the assessment stage, up until secure accommodation has been established. This fully configurable case management software assists in creating personal housing plans and H-CLIC returns.
Uniquely, hope can also be integrated with Homefinder UK, to manage homelessness prevention cases and provide direct, nationwide move-on housing options.
The Homelessness Reduction Act
In effect since April 2018, the Homelessness Reduction Act fundamentally changed homelessness legislation by introducing a statutory duty to help prevent applicants losing their home. By this new legislation, councils are required to:  
Take action to help source accommodation for applicants who are homeless 
Include the provision of a personalised housing plan (PHP), which demands a more individual case management approach 
Submit H-CLIC statistical reports quarterly 
Research by the London School of Economics has shown many councils are struggling to comply with the legislation. This is due to significant underfunding that does not account for the additional workload. The extra administrative duties include assessments and administration at the point of contact, reviews, appeals and reporting. 
Features:
Ability to transfer legacy data and to integrate with third party applications 
Triage to advice, prevention & relief 
Automated H-CLIC compliance checks and reporting to DELTA 
Immediate access to immediately available social housing nationwide via Homefinder UK  
Configurability of all aspects of the system  
Manage workload more effectively  
Advice agency referrals and access  
Over 60 system-integrated letter templates to comply with all aspects of legislation  
Real-time interactions 
Single unified applicant record  
Integration with Housing Reviews Ltd (Minos) Letters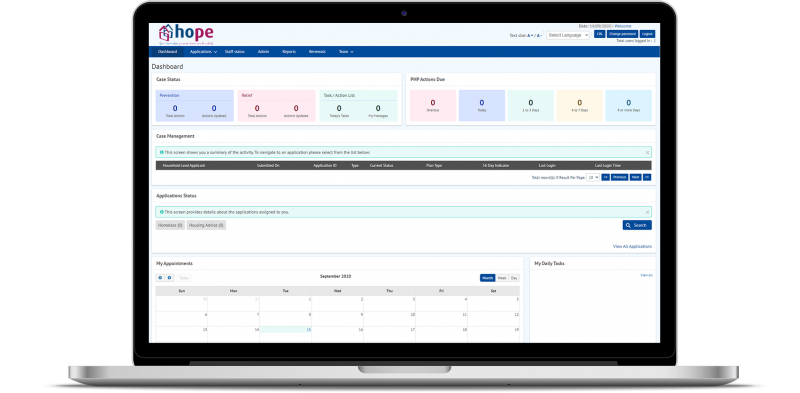 FREE demonstration available
Through seminars and strong relationships with our clients across the country, Home Connections has a strong understanding of local authorities' needs.  
The first live hope system has been running in Leicestershire since the end of September 2017. Designed and perfected by the user community over the past years, hope is the strongest bespoke homelessness module on the market. 
Purchase both the Homefinder UK service and the Homelessness Reduction Act software to make massive savings. Book your free demo today! Contact us via [email protected] or call 0203 823 1078.