16/06/2023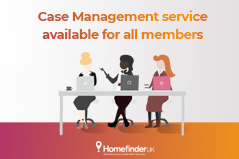 Homefinder UK is pleased to announce that Cambridge City Council has achieved their FIRST move through Homefinder UK!

The successful candidate was Mr Elliot* who accepted a 2-bed property in Birmingham. He was in a use and occupation tenancy prior to the move. He was one of Homefinder UK's first referrals from Cambridge after he had separated from his partner and, due to not being named on the tenancy, was facing eviction. 
In partnership with Worcester based housing association, Sanctuary Housing, we have identified a two-bedroom over-55s bungalow. Eligible to under-occupy due to being in receipt of PIP, he viewed the property and signed the following week.
Ruth Trown, Policy & Performance Officer at Cambridge City Council, was thrilled by the first move achieve in such a short time. "It's great news that we have managed to help our first household to move somewhere affordable and appropriate really quickly. Cambridge City Council only signed up to the Homefinder UK service, and we are already celebrating our first move! Let's hope we can help many more people who need to move somewhere away from Cambridge in the same way, and as quickly." 
Mr Elliot said, "The living room is so big compared to my last flat. It's lovely! And I'm very happy that when my mum and dad come to visit, they will have a space to stay over".
We look forward to many more swift relocations and happy customers working with Cambridge City Council. 
If you are homeless or facing the threat of homelessness, please do not hesitate to contact us on 0207 619 9705 or email us at [email protected]. 
If you are a social landlord looking for a reliable partner to help you reduce homelessness in your area, please do not hesitate to contact us on 0207 619 9705 or email us at [email protected]. 
*All names have been changed to protect the identity of the applicants