16/06/2023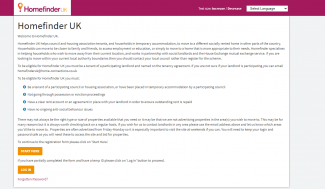 Our Housing Register system update has been now complete. Thank you for your patience!
If you are a registered user, you can now log in to your account. Please note that your pin has been changed to your 8 digit date of birth backwards, YYYYMMDD. Your security question has also been set to a memorable year - 2020. We strongly advise you to change them both to something you can remember. You can click here to update your application with us.
If you are not yet registered and wants to register with our services, click on our new registration form to start an application. 
Thank you for your patience. 
UPDATE: If you have been contacted about updating your application form, please login and click 'report a change of circumstances.' This will allow you to update your details and add other household members.