16/06/2023

Welcome to our Revive newsletter! In this edition, you will find the latest updates on our Revive project, advice on how to access this service, updates on upcoming events, useful resources related to domestic abuse and more!
Revive: priority for domestic abuse survivors during & beyond Covid-19
The lockdown resulted in a significant increase in the number of calls our Revive service received in the last few months. Likewise, other charities and support services have noticed a surge in calls to helplines and online services due to escalation of abuse in households across the country during the lockdown period. 
Throughout this period, REVIVE has continued to source and provide homes for survivors who had no other option but to escape abusive perpetrators. Revive was able to facilitate moves despite restrictions that affected viewings and sign-ups through the strength of our housing partnerships. 
Together with Safer London and DAHA, Revive also initiated a Call to Action to encourage councils and housing associations to prioritise survivors of domestic abuse. Now, more than ever, the commitment to support those fleeing domestic abuse to access emergency services and permanent accommodation is needed.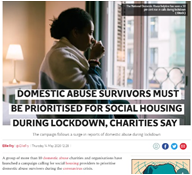 Revive service highlighted on the media!
Our Call to Action was heavily covered in the media including national news, such as Inside Housing and The Independent. Our manager, Brenda Fraser, has also been interviewd by talkRadio to discuss the campaign further. If you've missed the interview, you can listen to the recording here:
Badass Women's Hour 19.30-20.00
https://talkradio.co.uk/radio/listen-again/1590256800# (just go to 16.50 minutes)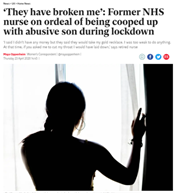 A sucessful outcome for one of our applicants has also been picked up by the national press. Despite all the constraints in place due to the COVID-19 outbreak, Revive reached out to their partner housing associations across the country to successfully rehouse a retired NHS nurse, who was experiencing economic abuse and was sleeping on a family member's balcony. In partnership with Sanctuary Housing, Revive was able to secure a home for her within just 7 days after the initial call for help. 

Read this domestic abuse survivor's full story on a recent article published by The Independent.
We have helped over 60 survivors find a new home in a new area of the country, where they can now live free of abuse. Find some relevant insights about those housed through our service below!
6 in 10 domestic abuse survivors rehoused came from BAME background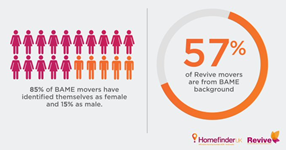 We also launched a new report that revealed that nearly 60% of the applicants we helped to rehouse came from BAME background. The report provided further breakdown on types of abuse experienced, age, most common housing needs and others. 
The report also offered an insight about the different obstacles BAME housing applicants faced when accessing housing and other frontline services.
'Left on the scrapheap': Higher proportions of black and minority ethnic women suffer domestic abuse but 'face racism from public agencies'
The report was also highlighted in The Independent: 'barriers range from presumptions made based on the ethnicity of the victim, cultural background being overlooked or misunderstood, religious practices being ignored, and restricted access to translators.'. Read the full article.
How to get help
How to refer yourself: 
Email [email protected] and provide your name and contact number and the local authority area in which you live. We will be in touch.
How to refer an applicant:
Provide the applicant's details (name, contact number and email address) by email (

[email protected]

) 
Provide the applicant's housing status (secure tenancy, temporary accommodation, homeless or private)
Give a brief outline of any support needs the applicant may have
Provide the applicant's User ID if registered with Homefinder UK
Mindfitness: seminar for your staff
The mental wellbeing of our staff has always been one of our priorities. To help cope with stress levels caused by the difficult times we are currently living and the pressures of constantly dealing with distressing calls, our Revive case managers have been enrolled onto online courses, provided by Mindfitness, to help manage anxiety and think positively. 
Concerned about mental wellbeing of your staff? Combined Cognitive Behaviour Therapy & Mind fitness 1hr session for up 20 staff starts from just £295. To find out more about the offers available, contact [email protected].
KEEP UP TO DATE
Domestic Abuse bill passed: what will be the difference for survivors?
In a landmark moment for domestic abuse survivors around the UK, the Domestic Abuse bill has been passed. Among other things, the Bill will place a duty on local authorities in England to provide support to victims of domestic abuse and their children in refuges and other safe accommodation. Here's what else will change for survivors and their families.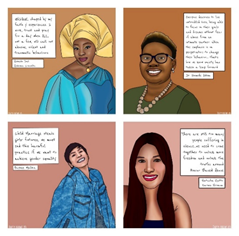 Celebrating 12 black and minority ethnic professionals tackling domestic abuse 
Faced with the challenges caused by the Covid-19 crisis, Meena Kumari, from H.O.P.E. Training & Consultancy, organised regional meetings to discuss the impact of domestic abuse on people from black and minority ethnic communities. 
Inspired by the women present at these meetings, which included DA professionals, survivors and activists from all over the UK, Meena teamed up with artist and Psychology graduate, Daisy Meredith, to start the #BlackInDA #12Women digital art project. "#12Women is about raising the voices of inspirational agents of change", says Meena. Get to know more about this project.
Free online training & meetings on Domestic Abuse
Want to join the conversation on Domestic Abuse? Understand how can you support better domestic abuse survivors from different backgrounds? We have put together a useful list of trainings and meetings that you can participate below:
WHAT OUR MOVERS SAY
Revive is more than a relocation service, it is a project that gives people hope, the chance of a fresh start and a life without fear. It is with a sense of joy and accomplishment, that we share with you some of these success stories – which are our ultimate goals!
 
Domestic Abuse & homelessness: a dangerous link for LGBT+ people
Did you know 11% of LGBT+ people have experienced domestic abuse? In our blog, we shared stories of three applicants from the LGBT+ community that sought our help. Learn more to know how accessing secure and stable social housing has helped them to turn their lives around.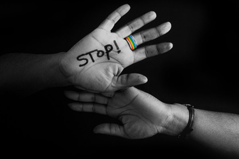 Feedback from our partners
"I'm thrilled with the outcome for one of our DA applicants, not only because she is a nurse and very much needed this move as an 'accepted homeless' domestic abuse survivor, but because it was achieved during a very challenging time as a result of Brenda & co pulling out all the stops to make it happen. Thank you, Brenda & Co, for all your hard work with this case to achieve a perfect outcome for this applicant and her children!" – Jo-Anne, Operations Manager from LB Croydon.
Moving out of unsuitable conditions
R.N. fled domestic abuse with her children and privately rented a flat that was too small for them. Living in cramped conditions, she sought the help of Barking & Dagenham who referred her to our services. The lockdown restrictions in place slowed the moving process, but working in partnership with Clarion, Revive managed to move her and the family to a three-bedroom house that matched their needs.
"I'm fortunate. The Revive team and the housing officer were both very sensitive to my needs and never gave up helping me"
 
Leaving abuse behind to start afresh
Experiencing issues with his stepfather, who was verbally abusing him, S.S. was asked to leave the house he had lived in for 15 years. As lettings were put on hold, Revive worked with Platform Housing to arrange a virtual viewing of the property and a digital sign-up. The property was in a new area but near to his sister still, which pleased the applicant, who moved in once restrictions started to be lifted and it was safer to do so.
"The area is lovely. The flat is very spacious and I'm grateful for the support I received from the team"